To add your own event to this calendar, click here.
Purposeful Parenting Conference
From
September 17, 8:00 AM
until
September 17, 3:45 PM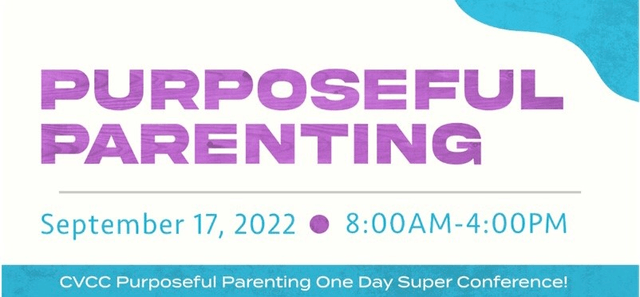 Calling all… Parents, Grandparents and Caring Adults!! Join us September 17, 2022!
Registration has now opened for the CVCC Purposeful Parenting Conference!
This "Super Saturday" will include meals, worship and intentional parenting strategies! We will grow together! This is a regional conference for anyone or organization in the area!
There is no charge for this event but you must register at the link below.
https://cvcc.churchcenter.com/registrations/events/1312708
Event Schedule:
8am Registration & Continental Breakfast
8:20am Opening & Worship Together
9am Kara Powell: Building Sticky Faith Through Your Conversations & Connections
10:30am Break
10:45am Scott Burnett: Managing Technology at the Home
12:15pm Lunch
1:15pm Worship Together
1:35pm Jim Burns: Confident Parenting
2:35pm Break
2:40pm Jim Burns: Teaching Your Kids Healthy Sexuality
3:45pm Closing
Add An Event
To add your own event to this calendar, click here.